Writing notes and taking notes
With the latest updates to the macOS (especially with Monterey) and iOS operating systems, Apple has improved the Notes app by introducing some new features.
However, so-called "note-taking apps" are helpful and perhaps sometimes indispensable.
There are numerous notes and note-taking apps, and among them, we have already presented Obsidian (part 1, part 2 and part 3) which is a powerful solution for both writing content and notes.
Regarding apps, in general, we consider as "*pro" at least the following features:
open source: this kind of solution indeed converges with the principle of transparency since the code is available to anyone who wants to verify it and can represent an element to guarantee users;
Multi-platform: the availability of apps for different platforms is undoubtedly an added value. Every day, we might move from one device to another; knowing that we have the same resources on our devices makes work easier and increases productivity. In the case of Apple users, it's crucial to use the same app on both macOS and iOS; just as for others, it's helpful to have both desktop and mobile solutions.
What data does the app collect: it is essential to know if the app collects data that it sends to the developer; Apple has long since updated its App Store to inform the user of this circumstance.
location of any resources in the cloud: the user has the right to know where their data is. If the app also uses web services in the cloud, it is good to know where your data is saved.
Encryption, if any: Encryption is an important feature, especially when your data is stored on resources outside the EEA (mainly for European citizens).
Joplin
Joplin is a free note-taking app developed by
Laurent Cozic as an alternative to Evernote.
You can find some general information on Wikipedia, including why the app was named Joplin.
The official reference site is https://joplinapp.org.
Joplin is an open source solution (the code is available on GitHub), and multiplatform. In fact, Joplin is available in versions:
Joplin supports end-to-end encryption (E2EE) for all applications.
That is a reasonably comprehensive app that uses Markdown. You can add attachments of different formats (PDF, audio, video, images).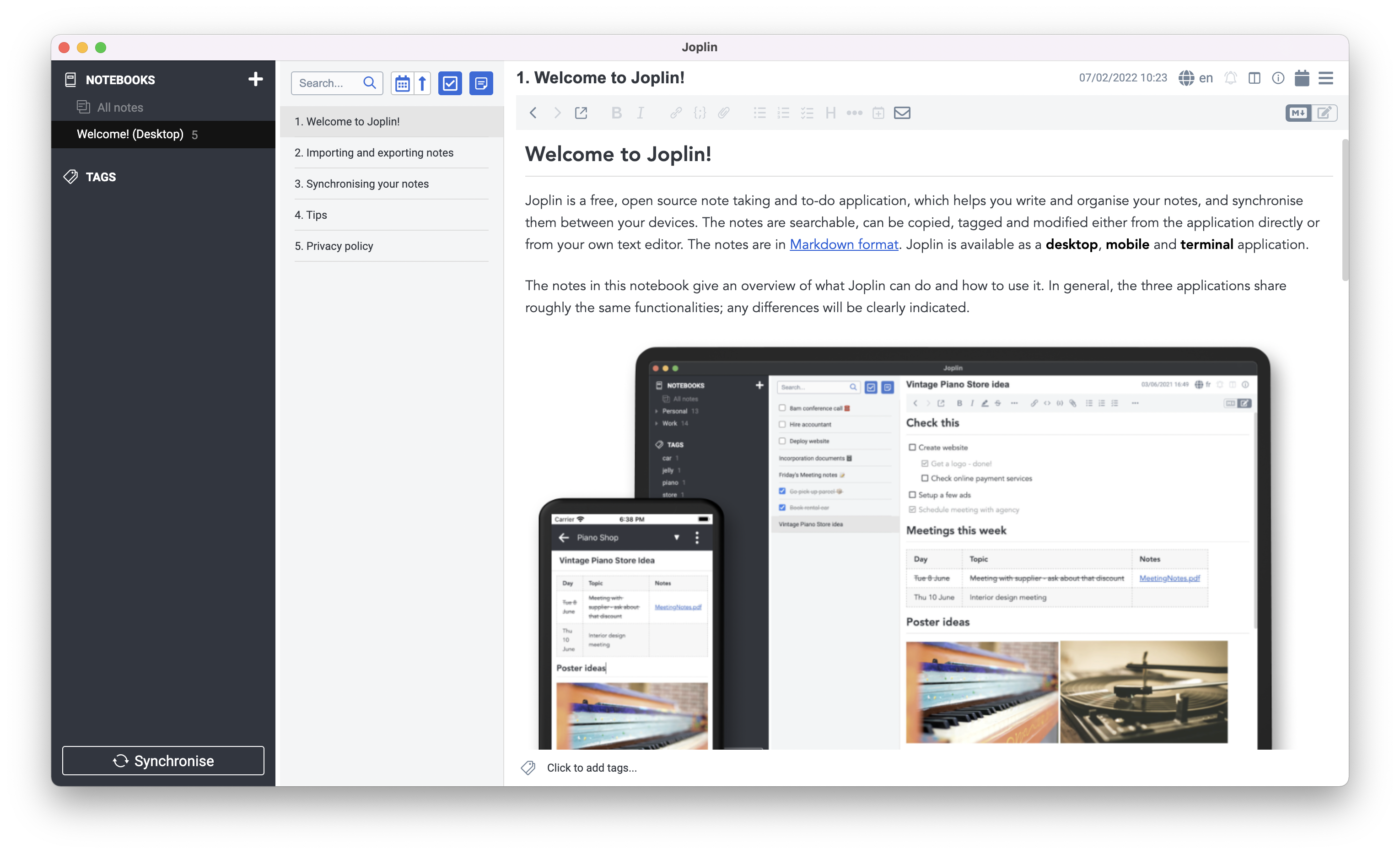 In addition, Joplin allows you to use the so-called Web Clipper, a browser extension through which you can add web pages to a note. Unfortunately, Web Clipper is currently only available for Google Chrome and Firefox.
Another interesting aspect of Joplin is the possibility of synchronizing the notes through services such as Nextcloud, Dropbox, WebDAV, S3, OneDrive, Joplin Cloud.
There is the possibility to add plugins developed by third parties that integrate into Joplin.
Anyway, the complete list of features is available at this page.
Overall, Joplin is a good notes application and has improved over the years.
With Joplin, you can take advantage of a service - for a fee - called Joplin Cloud. This solution allows you to access the following functions (we retrieved the following information from the official site):
publish a note on the Internet and share it with others. The published note will be updated automatically every time you make a change.
Collaborate on a notebook with other Joplin Cloud users. You can share a notebook with other users who will have full access to it - they can read, change or add additional notes, images or documents to the notebook. That is convenient for working on ideas or a project with others.
Improved synchronization performance. Compared to other synchronization options, Joplin Cloud, explicitly developed for Joplin, is faster and consumes fewer resources.
The Joplin Cloud solution is fascinating, but - having accessed its "Privacy Policy" page, we found no indication of the location or servers used for the Joplin Cloud service. Therefore, we have written to the developer stating that users would probably like to know where the service provider will store their data, but we have not received any response yet.
We will cover other so-called "taking notes apps" solutions in future posts.
---
If this resource was helpful, you could contribute by
Or donate via
Follow us on Mastodon
Stay tuned!