The Nym project
What is Nym?
Nym is a complex project carried out by the Swiss company NYM Technologies SA that is based on a blockchain to build a network for anonymous browsing, which can also be used to ensure non-identifiability of data and metadata to apps that allow traffic to be routed on the Nym Mixnet.
The project is indeed complex and wide-ranging, and our intent here is to describe it briefly not only for disclosure purposes but also because the same is an opportunity to take up a topic to which we have already devoted extreme attention elsewhere, which is that of Privacy Enhancing Technologies (PET).
An analysis - even a cursory one - of the NYM project shows that it is a solution devoted to ensuring the broadest possible privacy by navigating the Internet via the Nym-Mixnet.
In the "light paper," posted on the institutional website, it states:
"The Nym network is a decentralized and tokenized infrastructure providing holistic privacy from the network layer to the application layer."
and then:
"With Nym, you can communicate freely without censorship or fear. Combining a decentralized mixnet and a credential system, Nym weaves token-based incentives into the ecosystem it enables, delivering privacy that is both sustainable and scalable. Nym fills in the missing pieces of the cryptographic revolution necessary to end mass surveillance."
Nym is defined as a privacy platform based on the following different types of nodes:
We reproduce below The official diagram describing the infrastructure with individual nodes:
Of course, since it is a blockchain, there is the related cryptocurrency, the Nym mixnet token which is NYM.
Application solutions on the Nym-Mixnet network.
The NYM project, as noted above, also allows the possibility of leveraging the Nym-Mixnet network for applications whose developers intend them to be browser-based, using Typescript SDK. In addition, the use of Rust SDK allows developers to build applications in Rust by importing and interacting with Nym clients as they would with any other dependency instead of running the client as a separate process on their machine.
That is what emerges from the official documentation.
As is evident, such solutions are exciting and valuable in terms of computer security.
We have tested their effectiveness and power by installing the frontend of Pastenym, an application developed by No Trust Verify (which manages the backend), a Swiss company firmly committed to NYM network support and the development of solutions that rely on the Nym-Mixnet network.
Pastenym is a web app–currently still in the alpha stage–based on well-known web apps such as Zerobin and Pastebin, through which text or files can be exchanged in a confidential and encrypted manner using the security of the Nym-Mixnet network.
We would like to publicly thank cgi-bin (on Nostr npubinftkhktqglvcsj5n4wetkpzxpy4e5x78wwj9y9p70ar9u5u8wh6qsxmzqs and Twitter @cg1_bin) for his willingness to discuss such solutions and for support.
That vast and fascinating ecosystem can bring undoubted benefits in cybersecurity, data protection, and privacy.
Nym and No Trust Verify can count on our willingness to support them concerning any legal aspect pertinent to personal data protection and privacy.
Concluding reflections on NYM.
The project is indeed ambitious and prestigious, so it aroused our enthusiasm by convincing us to create a Nym-Mixnet node to make a modest contribution to the cause. You can get an overview of the NYM blockchain through the Mainnet Explorer platform.
The creators of Nym place the utmost attention on privacy, considering the project a solution that can be classified as a PET (Privacy Enhancing Technologies), so much so that last July 13 at the Privacy Enhancing Technologies Symposium 2023 the paper entitled "Compact and Divisible E-Cash with Threshold Issuance" by Alfredo Rial and Ania M. Piotrowska.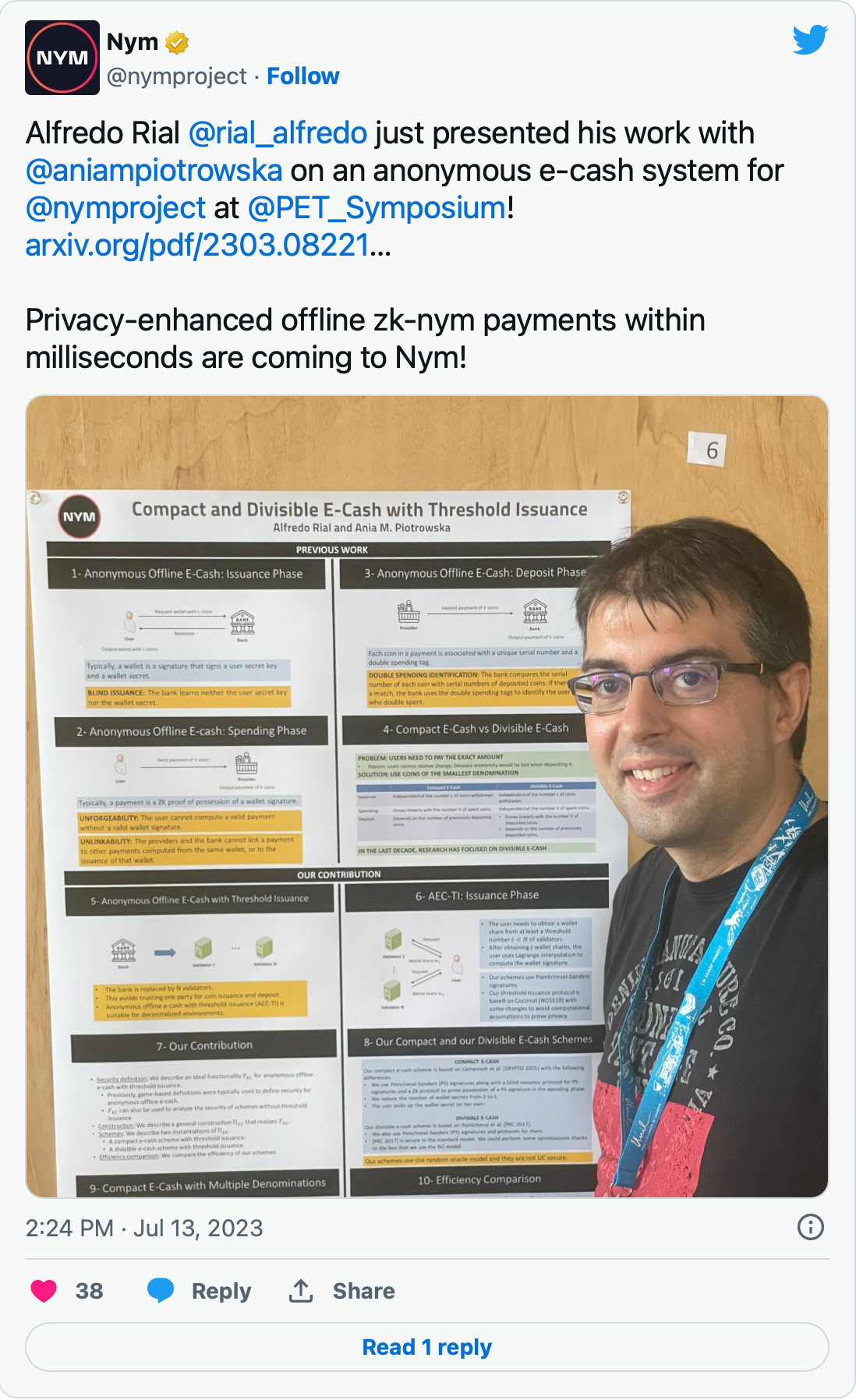 The project is precious. It deserves the utmost attention, just in the current scenario fixing our gaze on Web3 and its innovative evolutions that we may see in the coming years.
Let's look at the most current innovative solutions. More and more attention emerges to the issue of privacy (also declined as protection of personal data), which is being addressed with interventions aimed at increasing security levels, thus offering the user more outstanding guarantees.
Security is an important element within the personal data protection and privacy ecosystem. Still, one should avoid considering these two aspects as synonymous because the correct equation is:
security ≠ privacy
We should not see security as the solution to critical data protection and privacy issues; one needs to address them simply by introducing security systems or raising their levels.
It is necessary to be clear about these concepts at all times.
The Nym project provides an opportunity to recall what we have said elsewhere about PETs and elaborate on them. We invite you to follow us to read upcoming contributions on PETs.
---
If this resource was helpful, you could contribute by
Or donate via
Follow us on Mastodon
Stay tuned!