Presearch
Firstly, if you missed, we published an article on the search engine with private search.
Presearch is a search engine and refers mainly to two websites:
https://presearch.io contains the project description.
https://presearch.com is the search engine.
What is Presearch?
We find the answer on the website https://presearch.io, where we read:
Presearch is a Decentralized Search Engine
Search privately, receive better results and get rewarded with the Presearch decentralized search engine, powered by blockchain technology.
From that short description, we understand that Presearch is based on some main pillars, and precisely:
Presearch is a search engine;
Presearch is based on a blockchain;
Presearch guarantees the private search;
Presearch rewards users.
Presearch is on the Ethereum blockchain and the Token address is 0xEC213F83defB583af3A000B1c0ada660b1902A0F as we find it on GitHub.
Presearch is open source and you can find the code on GitHub. Sincerely, they published not all the codes; we seem that miss the code related to running a node.
Let's take into the matter.
The Community
The essence of the Presearch project is a community, as we read on the "About us" webpage.
Presearch is a community-powered, decentralized search engine that provides better results while protecting your privacy and rewarding you when you search.

We believe that the best way to compete with the massive, centralized and monopolistic corporation that currently dominates search is to build a framework that enables people from all over the world to collaborate to build an open and decentralized search engine.
However, to avoid confusion, it's better to clarify that the reference to the community is only related to the operation of the search engine by the nodes running by users. Indeed, the company "Presearch.com Global Limited," based in Canada, is the only legal entity that owns that project and "offers an internet search engine".
Who is really behind Presearch?
The only information we found on their website is published on the page Terms of Service and precisely:
Contact Information

Presearch.com

270 King Street

Midland, Ontario, Canada
Thus, it is clear that any service related to "Presearch.com" belongs to the company "Presearch.com Global Limited," based in Canada.
Presearch Ecosystem
Furthermore, as we read on the "Ecosystem" webpage, Presearch is described as an ecosystem composed by :
Presearch Engine;
PRE Tokens;
Presearch Nodes;
Presearch Keyword Staking;
Presearch Marketplace;
Ethereum blockchain.
Our comments and impressions
Those who find Presearch and decide to use it as a search engine probably not be fully satisfied with the product at its first impact, and we will explain why.
Indeed, one expects to be faced with a search engine, and the first thing that comes to mind is to use it and verify the results.
If you imagine Presearch as a super powerful engine that carries out several tremendous search results and over the other well-known and extraordinary search engines for private searches, you will probably remain disappointed.
Presearch is a powerful search engine described as follows:
The new Presearch Engine offers results that are as good as the world's top search engines. It also provides an additional layer of data through community packages which makes those results even better. For example, you can search Presearch for "Bitcoin" to see what the crypto package looks like. Over time, there will be additional results provided by a user-curated supplementary index.
Moreover, we read:
The vision is to create totally open and transparent algorithms that leverage blockchain technology and the human power of the Presearch community so that, similar to Wikipedia, anyone can participate in the creation and curation of the search index, providing superior results and censorship-resistance.
Given that, you have two choices:
Use Presearch as a search engine
use Presearch as a search engine and the entire ecosystem.
We made the second choice because we think that to understand Presearch well, it is necessary to dive into its ecosystem and test it thoroughly. That might be the correct way to get a clear picture.
We will describe below what we did (and if you want, you should do) to take full advantage of all Presearch's features to have a clear picture, especially as the search engine.
Registration
The first thing is to register by creating an account, as shown in the image below.
Before you proceed, we suggest reading the Privacy Policy, which we will return to later.
Site Settings
Once you register, you will access the site settings that you can personalize. On the site settings page, you will find the following sections:
My account;
Profile;
Tokens;
NFTs;
Advertising;
Feedback;
Community;
Legal.
From "My account" you will see your account's settings.
From "Profile" you can access some settings as in the image below.
From "Tokens" you will have access to some settings as in the image below.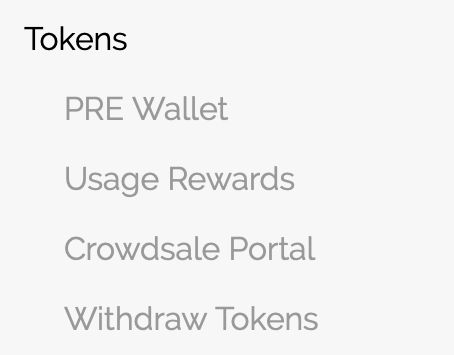 From "NFTs" you will have access to some settings as in the image below.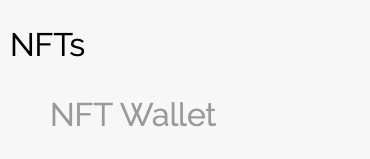 From "Advertising" you will have access to some settings as in the image below.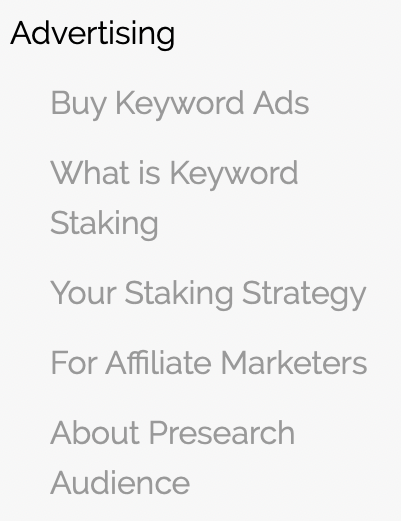 PRE Tokens
As we said, Presearch is on the Ethereum blockchain and the Token address is 0xEC213F83defB583af3A000B1c0ada660b1902A0F as we find it on GitHub.
After completing the registration, you are not obliged to buy PRE tokens, the Presearch cryptocurrency.
However, a registered user can decide to buy PRE tokens via the Presearch Marketplace or by external markets.
Here is an official article that explains the topic.
The reward mechanism
Presearch rewards registered users both for searches and for the nodes running.
Regarding searches, Presearch rewards a registered user with a maximum of 25 searches for a day, and the amount of every search is 0.1000 PRE tokens. Concluding, 25 searches for a day mean gaining 2,5 PRE tokens.
What amount of PRE tokens might a user earn monthly or yearly?
The calculation is simple:
Monthly: about 75 PRE T (2,5 x 30);
Yearly: about 900 PRE T (75 x 12).
---
Regarding the nodes, it is necessary to clarify.
Every user can decide (because it is not obliged) to set up and so run one or more Presearch nodes to contribute to the decentralized platform, as Presearch explains on this web page as follows:
Presearch is now preparing to release its first decentralized technology – a new search engine experience that runs on node servers operated by Presearch community members.
Here is the web page related to the Presearch nodes.
We decided to set up some nodes.
What are the advantages?
Firstly, becoming part of the community by contributing to and improving the decentralized architecture based on the blockchain to make them a more efficient and powerful Presearch search engine.
In that way, a registered user can brick available its resources by contributing to the Presearch search engine. Every node so became one of the blockchain's nodes. The process is straightforward; some instructions are on this web page. 
Secondly, a node operator (a registered user who sets up one or more nodes) can earn PRE tokens and Stake them.
However, there is a precondition to earning PRE tokens because the node operator has to stake 4,000 PRE tokens for each node.
We understand that it is impossible to forecast the earnings because the amount will depend on some system variables.
---
Another way to gain tokens is the Presearch Keyword Staking.
A registered user can set one or more words for a search (for example, "cryptocurrency") and decide to stake PRE tokens on that word.
You can find further information on the official Presearch docs.
Privacy
Recalling the nature of our Digital Notepad, where we publish content paying attention to privacy and security issues, we report just a few comments on privacy aspects.
Presearch published a Privacy Policy.
Presearch declares in its privacy policy not to collect search terms, not track or store your GPS location, not use third-party cookies, and not track users across sites.
Hence, the central aspect regards registered users precisely because of their personal data, especially those users from Europe and EEA.
From our perspective, Presearch should review the privacy policy to comply more with the GDPR, providing information related to the representative (according to article 27 of the GDPR) and specifying those according to article 13 of the GDPR.
Conclusions
Presearch can be used simply as a search engine anonymously or, we mean, without registering. Still, if you want a more comprehensive experience, you should register to become part of the community and so enjoining the entire ecosystem.
The business model adopted by the Presearch bot regarding the blockchain and the related ecosystem is attractive.
We don't think participation in the Presearch ecosystem can mean an opportunity for users to earn money. From our perspective, that cannot be the reason for choosing Presearch.
Instead, we believe that registering and participating might be an added value to the community only if users genuinely believe in the project.
---
If this resource was helpful, you could contribute by
Or donate via
Follow us on Mastodon
Stay tuned!